Tomorrow marks the half way point of the 100-Day Challenge. 50 days, my friends! Let me remind you that this is NOT about speeding up the process and sprinting through life to get to the New Year. In fact, it is the exact opposite. The purpose is to live each day to its fullest and take steps every single day to inch closer to accomplishing your goals. If you have fallen off the challenge, get back on. If you are plugging away, keep plugging. Enjoy the journey. Enjoy every minute. It is in this journey that we learn about ourselves and just how strong we really are.
Jack Canfield, a motivational speaker, has 7 tips for success that are parallel to the 100-Day Challenge. They are:
1)
Take 100% responsibility of your life.
2)
Be clear why you are here. (Know your purpose!)
4)
Believe it's possible.
6)
Be an inverse paranoid. (Expect success!)
7)
Unleash the power of goal setting.
Get those goals! You deserve them!
PECAN UPSIDE-DOWN CAKE

Makes 1 (9-inch) cake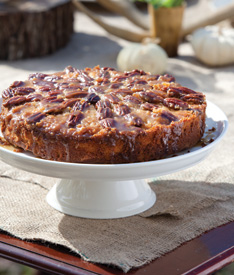 1/2 cup unsalted butter, softened
1 cup sugar
3 large eggs
1/2 teaspoon vanilla extract
1 1/2 cups cake flour
1 teaspoon baking powder
1/4 teaspoon salt
1/2 cup plus 2 tablespoons whole buttermilk
1 cup chopped pecans
1/4 cup unsalted butter, melted
1 cup firmly packed light brown sugar
1/4 cup heavy whipping cream
1 cup pecan halves
Brown-Sugar Brandy Sauce (recipe follows)



1.

Preheat oven to 350°.


2.

In a large bowl, beat softened butter at medium speed with an electric mixer until creamy. Gradually add sugar, beating until fluffy. Add eggs, one at a time, beating well after each addition. Add vanilla.


3.

In a medium bowl, combine flour, baking powder, and salt. Sift twice.


4.

Add flour mixture to butter mixture, alternately with buttermilk, beginning and ending with flour mixture. Fold in chopped pecans.


5.

In a medium bowl, combine melted butter and brown sugar, mixing well. Add cream, stirring until smooth.


6.

Pour brown-sugar mixture into bottom of a 9-inch cake pan. Arrange 1 cup pecan halves in brown-sugar mixture. Spoon prepared batter over pecan halves.


7.

Bake until a wooden pick inserted in the center comes out clean, 40 to 45 minutes. Run a knife around the edge of cake pan to loosen cake edges. Immediately turn cake onto a serving dish. Serve with Brown-Sugar Brandy Sauce.



BROWN-SUGAR BRANDY SAUCE


Makes approximately 1 cup

3 tablespoons unsalted butter
2 cups firmly packed light brown sugar
1/4 cup brandy
1/4 cup heavy whipping cream



1.

In a medium saucepan, melt butter over medium heat. Add brown sugar, whisking to combine. Add brandy, whisking to combine. Add cream, whisking until smooth.


2.

Cook, whisking frequently, until sauce is heated through, 2 to 3 minutes. Sauce can be made ahead and stored in refrigerator. Reheat in the microwave before serving.
Have a blessed day and get after it! - Carisse